Mk.6 (1969)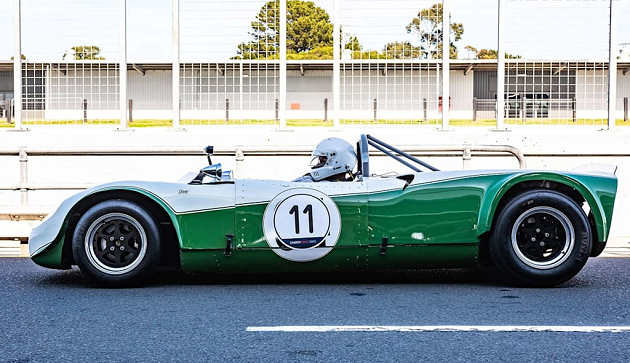 The notion of Bolwell Cars entering into motor racing started to become a more serious proposition during production of the Bolwells Mk.4, and was spurred on by achievements by club racers in their Mk4s, and most particularly the success of Terry Scully in the "factory" Mk.4 racer and later Peter Mahoney in the Holden engined Mk.4. The result was the one and only Bolwell SR6.
The SR6 project did not start out just a one-off but it was initially intended to be Bolwell's introduction into sports car racing. In that era Elfin cars were winning nearly every race. If you wanted to go racing you would seriously consider an Elfin. Every time you bought 'Racing Car News' magazine or whatever you'd see photos of Elfins and occasionally you would see a Mk4. To be competitive in the sports racing class you really had to be mid-engined and Bolwell thought that they could build a very competitive sports race car.
At the same time that Bolwell was considering building a sports race car, they were approached by Alan Newton from Yallourn, in Victoria's Gippsland area. Alan had achieved considerable success in racing a Jewett-Holden in various hill climbs and other races around Melbourne, and originally approached Bolwell with a Mk.4 in mind as a race car, potentially as a suitable body-chassis for his proven and successful Repco-Holden race engine. However one thing led to another and the discussion turned to mid-engined race cars.


Bolwell originally considered building something like the Lotus 30 monocoque racer, but there were reports of the Lotus 30s breaking so they decided to try something else. After further discussion the decision was made to start with a Mk.4 and chop and channel the body, shorten the Mk.4 front, and extend the Mk.4 back section to go over the rear engine and put a windscreen around it. Campbell Bolwell did a few sketches and showed the revised drawings to Alan and he was happy, and the Bolwell SR6 was born.
Bolwell eventually decided that it wasn't going to be cost effective to fully tool up for the SR6. It was always a racing car so it was probably only a limited market. However, Bolwell was fully aware that the exposure that it would bring to the brand would likely be considerable. The SR6 was going to go out on the race track with the Bolwell name on it and people would take photos of it so Bolwell wanted it to look good, and not just like a backyarder.
The SR6 ended up as a tubular space frame chassis bronzed together, with an aluminium floor and aluminium sides. It was unique because it was built to take a big six cylinder engine mated to a transaxle so a completely new chassis was required. The suspension, was influenced by Lotus racing type suspension. A Mk.4 body formed the basis for the SR6 body moulds, and there is a fair bit of influence from the Lotus 23 incorporated in the revised body design.
The SR6 was only ever conceived as a body chassis unit, but it took a huge length of time to be completed; so much so that by the time it was delivered to Alan Newton work had commenced on the new Bolwell Mk.7. Due to cost and complexity, the SR6 never made it into production.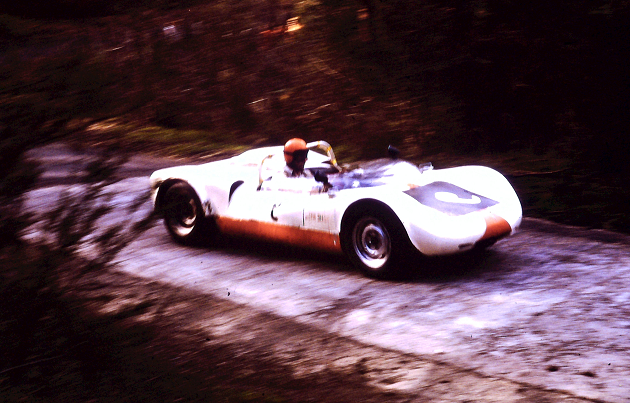 Once delivered, Alan Newton started the hard work of transforming the Bolwell body and chassis into a race car, and to make things just a little more challenging, under the class in which he was intending to race, the car had to be road registerable as well. Alan already had a fully race prepared Repco Holden "grey" engine, to which he fitted a modified Volkswagen gearbox. Alan then had magnesium alloy wheels made; six inches wide on the front and nine inches wide on the rear. Disk brakes were fitted on all four wheels. The SR6 was first raced in November 1969. The car was subsequently fitted with a Hewland Mk V transaxle as the VW box couldn't handle the power and a 192 ci Holden "red" engine with triple 45DCOE Weber carburettors. Further modifications included a change to a Hewland FT200 transaxle and Brabham suspension. The original Bolwell fibreglass body was modified in 1970 to accommodate wider front wheels, and unfortunately some of the reasonably distinctive Bolwell front end appearance was lost in the fibreglasser's attempt to apply a bit of a US "Can-Am" look. Alan raced the SR6 32 times with an overall best of 48.7 seconds at Calder.
John White, a previous Bolwell Mk.4 GT owner and a founding member of the Bolwell Car Club, purchased the SR6 in July 1974, and set about making his own modifications and enhancements to the car. Some of these changes including fitting Spitfire front uprights to the front and Rennmax uprights to the rear of the car (these were effectively copies of Lotus 23 uprights); Bowin one piece magnesium alloy wheels which were 10" x 13" at the front and 14" x 13" at the rear; adjustable suspension: Armstrong shockers; AR Girling racing brake calipers; and more. When John originally purchased the car it was fitted with a dry-sumped 202 ci engine but the oil scavenger pump was not adequate and John blew a piston during a race at Calder. That engine was replaced with a 192 ci unit producing some 210 bhp. Wider rear guards were needed to suit the new wide wheels, and the bodywork was modified to suit the then trend towards wedge shaped racers. John raced the SR6 a total of 30 times with best times of 47.9 seconds at Calder, 35.6 seconds at Morwell and 2 minutes 3 seconds at Phillip Island before selling the car in 1977.
The Bolwell SR6 has subsequently been owned and raced by several other owners and has recently undergone some extensive body repairs following an incident at Mallala, South Australia, in 2007. It is currently presented in essentially its 1976 format.
Bolwell SR6 – Dimensions and Specifications
(Sourced from 2007 CAMS Historic Car Certificate of Description)
| | |
| --- | --- |
| DIMENSIONS: | |
| Wheelbase | 2510 mm |
| Track – Front | 1380 mm |
| Track – Rear | 1405 mm |
| Overall Length | 3700 mm |
| Weight – fully equipped & fuelled | 580 kg |
| | |
| SPECIFICATIONS: | |
| Chassis | Steel tube – spaceframe |
| Body | Fibreglass, aluminium |
| Front Suspension | Triumph Spitfire uprights, coil springs, anti-sway bar |
| Rear Suspension | Rennmax Uprights, coil springs, anti-sway bar |
| Steering | Rack & pinion, Triumph Herald |
| Brakes – Front | Hydraulic Disc, 270mm x 10mm, 2" single pot |
| Brakes – Rear | Hydraulic Disc, 250mm x 10mm, 1 ½" single pot |
| Wheels & Tyres – Front | Bowen magnesium, 4 stud, 10" x 13", 240/525×13 Dunlop |
| Wheels & tyres – Rear | Bowen magnesium, 4 stud, 14" x 13", 310/620×13 Dunlop |
| | |
| ENGINE: | |
| Engine | 1965 Holden 6 cylinder in-line, cast iron, 3146cc |
| Cylinder Head | Holden OHV, cast iron, push rod |
| Lubrication | Wet sump, Hi-Vol Holden pump, oil cooler |
| Ignition | Bosch, coil |
| Induction | 3 x Weber 45 DCOE carburettor |
| Transmission | Hewland FT200 Transaxle (rear wheel drive), 5 speed |
| Fuel System | Holley pump, tank capacity 54 litres |