Mk.7 (1967 – 1972)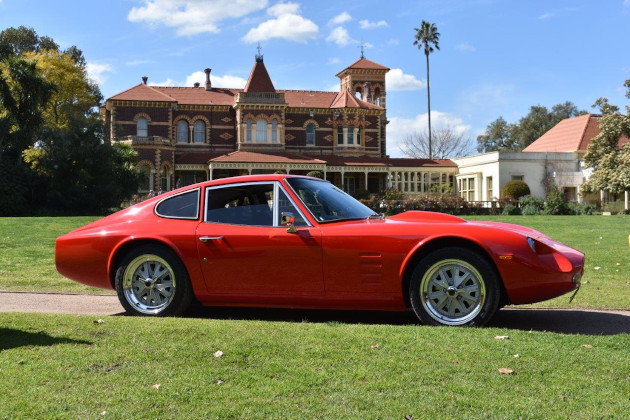 The new Bolwell Mk.7 featured on the front cover of Sports Car World in March 1967. The accompanying article by motoring journalist Rob Luck was titled 'Brain Snapping Bolwell' and spanned eight pages in the magazine. The test car had a Holden 186 X2 engine and a Triumph 2000 four speed gearbox, and achieved a fastest test speed of 125 mph, with a fastest standing quarter mile in 15.0 seconds. Zero to 60 mph (ie approx 100 kph) was achieved in 8.5 seconds. Pretty good going for a not totally sorted prototype car – Bolwell were too busy building Mk.7s for customers to actually finish their factory built car.
Bolwell had started the design work on the Mk.7 back in 1965. The Mk.7 was a clear extension of the Mk.5, and was effectively targeted at the same market of 'rusty old Holden owning sports car enthusiasts'. However this time the package was more refined, and the quality improved. Significantly, the Mk.7 was largely designed around Holden components, with mounting brackets etc set-up accordingly. Engine was expected to be Holden grey or red, although technically just about any engine, including a V8 could be fitted given enough time and effort.
Holden had only just released their own four speed gearbox, so the Triumph 2000 box as fitted to the Bolwell factory prototype was a popular choice at the time. Suspension was standard Holden, although Bolwell did offer an optional modified suspension design for both front and rear. Bolwell also recommended other Holden mechanical components such as radiator (HD or HR), fuel tank (FE or FC), door handles and locks (HD or HR). A small number of Ford components were specified including Cortina hand brake lever, XT Falcon wiper motor, Ford horn, Cortina interior light, Falcon brake and clutch master cylinders, Cortina air vents, etc. Other Mk.7 components such as headlights (Lucas), tail-lights (Toyota Crown), front parking lights (Morris 850) etc were selected on the basis of cost and availability.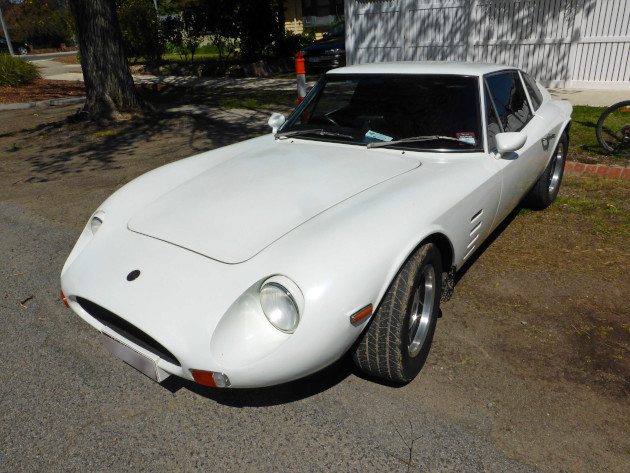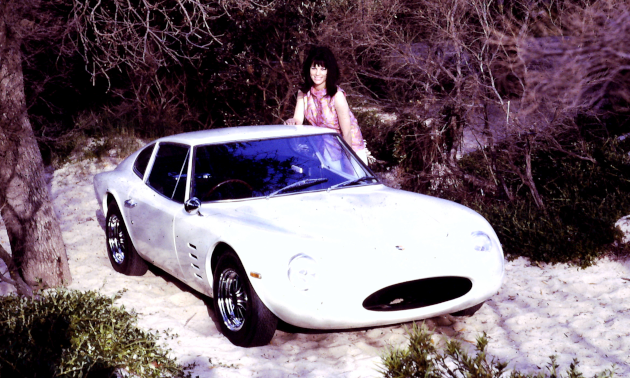 The steel backbone chassis was a more refined version of the Mk.5 and the floor was fibreglass rather than steel plate. Body design was sleeker and perhaps more exotic. The Mk.5's bubble type rear window was replaced by a much more stylish fastback type rear window (into which many owners have retrofitted a lift-up hatch). Doors were vastly improved with better fit and finish as they were separately moulded rather than cut out with a jig saw, and the windows actually wound down (part way at least). Bolwell also invested for the first time in a unique Bolwell laminated glass windscreen, which was made by Pilkington Glass.
During a six year period (1967-1972), 400 units received registration plates, making Bolwell Australia's fifth largest vehicle manufacturer. It was predominantly manufactured in kit form, but a number of complete cars were also built by the factory.
Bolwell Mk.7 – Dimensions and Specifications
(Sourced from Bolwell promotional materials and Sports Car World Road Test)
DIMENSIONS:
Wheelbase
88½" (2247mm)
Track Front
57½" (1460mm)
Track Rear
58" (1473mm)
Overall Length
156" (3962mm)
Overall Width
66" (1676mm)
Overall Height
43" (1092mm)
Ground Clearance
4½" (114mm)
SPECIFICATIONS:
Chassis
Backbone type steel chassis
Engine
Holden 186 ci 'red' X2 engine (as tested)
Transmission
Triumph 2000 4 speed gearbox (as tested)
Suspension
Front – HT Holden, coils and wishbones (as tested)
Rear – live located by coils, trailing arms (as tested)
Telescopic shockers
Steering
Modified Austin 1800 rack & pinion
Brakes
Disks front, drums rear (as tested)
Wheels
Magnesium alloy wheels (as tested)
Tyres
175×13 (as tested)
PERFORMANCE:
(as tested by Sports Car World)
Standing Quarter Mile
Average – 15.9 secs
Fastest – 15.0 secs
Top Speed
Average – 119 mph (191kmh)
Fastest – 125 mph (201kmh)
Fuel Consumption
Cruising – 28 to 32 mpg
Overall – 23.5 mpg
COST:
$899.00
Body chassis unit – includes steel backbone chassis with all suspension mountings, integral fibreglass body and floorpan moulding. All glass and chrome surrounds fitted. Doors and bonnet hinged.
$24.90
Pair – Special rate front springs to suit FE – HR
$15.40
Teardrop bonnet bulge – necessary for use with standard Holden carburettors.
$48.20
Hoodlining. (Black or off white)
$157.50
Carpets and all vinyl interior trim (Black only).
$126.80
Two bucket seats – fully upholstered. (not mounted). (Black only)
$78.80
Rear suspension kit – includes two trailing arms, one 'A' bracket, and two spring shocker units.
$35.80
Woodrimed steering wheel – with Bolwell badge.
$16.70
Dash covered in 1 piece black vinyl