Mk.8 – Nagari (1969 – 1974)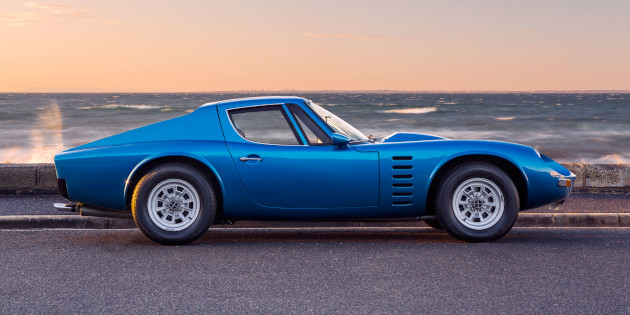 The Bolwell Mk.8 was different to previous models in several significant ways:
It was the first Bolwell car with a name, not just a number. The name 'Nagari' is apparently an Australian Aboriginal word meaning "flowing"
It was conceived as a fully built production car, not as a build it yourself kit. Campbell Bolwell was concerned about the quality of cars being driven around brandishing his name on them, and decided that the time was right for a professionally built, up-market Australian sports car. Kit versions of the Nagari were, however, available later in the production run.
It was designed to incorporate Ford components instead of Holden parts specified in the Mk.5, Mk.6 and Mk.7, including a V8 engine. Furthermore, mechanical components would be sourced new from Ford rather than refurbished second-hand parts as for previous models.
Graeme Bolwell had come back from a working holiday at Lotus in the UK in late 1966 with plenty of ideas about what could be done with fibreglass and the need to design for the material you are using. Graeme basically became Bolwell's R&D department and spent two years in a walled off area of the Bolwell factory with a Mk.7 developing the new Bolwell Nagari. Graeme effectively threw away the book on making steel cars and designed the Nagari for fibreglass. The biggest single production change was in the manufacture of the whole Nagari body in one piece, instead of making all the pieces, removing them from the moulds and then glassing them all together. The other significant advance was in the use of bobbins (aluminium plugs set in fibreglass) for mounting body parts and body/chassis attaching points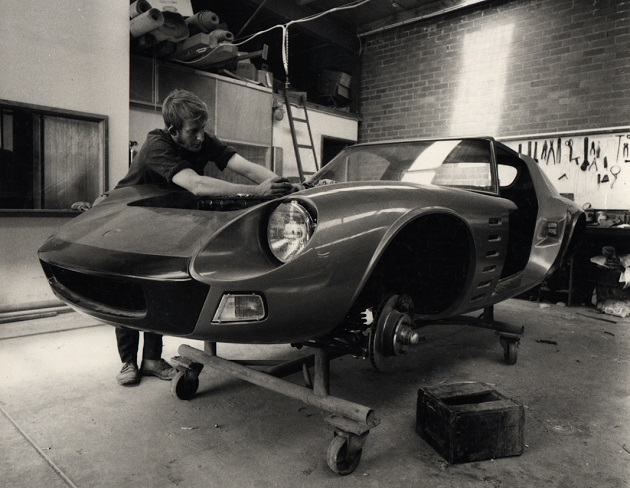 The Nagari doors, with an outer skin and an inner stressed door frame/skin were Lotus Europa inspired but went further and added a unique top section that intruded into the roof area giving better cockpit access. Another of the unique features of the Nagari was the bulging door-line, with the curve of the windscreen continuing into the doors and then sweeping in again as you move toward the back of the car, leaving the rear end narrower than the cabin. The huge curve in the windows didn't matter because they were to be fixed in place with ventilation via ducts through the dashboard. This again was an idea borrowed from the Europa, but it didn't take long for Bolwell to conclude that it wouldn't really work in an Australian summer. The use of a proprietary dash top was another Lotus trick and along with the moulded console trims, made the whole interior look much more professional than the previous models.
Chassis design for the Bolwell Nagari was also influenced by but not directly derived from Lotus, even though it is very similar to the Lotus Elan among others. Basically Bolwell liked the idea of the backbone chassis – the Mk.7 had a type of a backbone but in the Nagari they made the chassis a lot stronger as they now had the big Ford V8 engine
New supply arrangements were negotiated with Ford and Ford would take a engine and gearbox fully assembled off the production line for Bolwell. The engines were supplied with Autolite carbies on them but Bolwell replaced them with a 2 barrel Holley 500 carbie. Bolwell had to modify the chassis, headers and so on when Ford later changed from the Windsor V8 to the Cleveland engines. Although the Nagari was designed with Ford V8s as the power plant of choice, a handful of cars were built with Holden 6s and one constructed with a 1500 cc Cortina 4. Many of these variants have received V8 transplants; it now would be highly unusual to find a Nagari without a V8.
One of the other changes for the Nagari was the introduction of special Bolwell mag wheels. The first two piece version had Bolwell centres, which were basically a copy of a Lamborghini Muira and they were bolted onto a steel rim. They looked good but they weren't very strong, so eventually Bolwell changed to a fully cast one piece wheel.
Nagari production began in 1970 and continued through to 1974, when a number of factors came into play to affect its demise: specifically rising prices and impending stricter ADRs (Australian Design Rules).

Bolwell introduced the soft top Nagari Sports in 1972; not only because it looked so good but also because it was hoped that it would sell a few more cars. Many folk are surprised to learn that the Sports came about quite early in the Nagari lifecycle, at chassis number 47. Bolwell had to make some new moulds but could keep the bonnet and front and rear bumper but still had to make a whole new main body mould, with the roof chopped off. They also had to make a new inner guard and come up with some seat belt mounting points inside the back mudguards.
The chassis was strengthened in a few key areas, and a steel tube was incorporated into the rear body section to provide extra strength as well. The doors also had to be modified to remove the window frame, although the small quarter window and upright was retained to add some strength. Space behind the seats in the Sports was increased by moving the rear bulkhead back slightly. This meant that the seat could slide back further for better legroom, and meant that additional space was available behind the seats for coats or small bags or potentially for small passengers. The downside was that the boot space was reduced somewhat. Interior trim and all mechanical specifications were identical to the Nagari coupe.
Many improvements were phased in over the Nagari's production life, some due to continuing additional Australian Compliance requirements including the chassis alterations required for the (physically) larger Cleveland V8s that replaced (the original Windsor); adoption of MGB front parking lamp/indicators in place of earlier Cortina units; use of an energy absorbing steering column and flat steering wheel; and adopting a larger bonnet bulge specifically for the larger engines.
Official factory records show that 18 Sports were produced, along with 100 Coupes (or GTs) making the total production of Nagaris from 1970 to 1974 a grand total of 118 units.
Nagari (Mk.8) – Dimensions and Specifications
(Sourced from Bolwell promotional materials and Sports Car World Road Test)
DIMENSIONS:
Wheelbase
90" (2286mm)
Track Front
57" (1448mm)
Track Rear
59" (1499mm)
Overall Length
158" (4013mm)
Overall Width
66" (1676mm)
Overall Height
44" (1118mm)
Ground Clearance
6" (152mm)
SPECIFICATIONS:
Chassis
Backbone type steel chassis
Engine
Ford 302 ci (4958cc) (351 ci optional). Compression 10.0:1. Holley 2 barrel 500 cfm carburettor.
Transmission
Ford "top loader" four speed all synchromesh, remote control mechanism
Suspension
Front – Independent with unequal wishbones, coil spring damper units.
Rear – Live rear axle located with 2 oblique torque arms and 2 trailing arms
Fully adjustable coil spring damper units
Steering
Modified Austin 1800 rack & pinion, 3.3 turns lock to lock, turning circle 34 ft
Brakes
Hydraulic vented 11 1/4" disc front, power assisted. 10" drum rear. Separate circuits.
Wheels
Bolwell alloy wheels 14" x 6"
Tyres
184 x 14 radial ply
PERFORMANCE:
Horsepower
220 bhp @ 4600 rpm (Windsor engine)
Torque
300 ft/lb @ 2600 rpm
Standing Quarter Mile
14.8 seconds
Top Speed
130 mph (209kmh)
Fuel Consumption
Cruising – 24 mpg
Overall – 22 mpg
COST:
BOLWELL NAGARI Stage 1 kit: includes full backbone chassis fabricated from 14G steel, rustproofed and enamelled with front wishbones attached and all mounting points for Ford 302 V8 engine and gearbox; integral fibreglass body which incorporates all inner stress panels and inner guards, hinged bonnet and boot with locks, front and rear bumper panels, adjustable hinged doors, fully assembled and painted in colour of clients choice; complete interior trim including adjustable contoured bucket seats with built-in head restraints, console, padded dash, sunvisors, interior and exterior mirrors, courtesy light and switches, glovebox, ashtray, and door sealing strip; cigar lighter and face-level air vents; all glass, window winders and door locks; windscreen washer, fuel tank support bar; special designed pedal unit; complete collapsible steering assembly which includes ignition lock, padded leather wheel, pre-wired horn/trafficator/flasher unit; differential brackets, two trail arms, two torque arms, all shock absorbers and springs; 4 Bolwell alloy wheels with nuts, fitted with high speed rated 185 x 14 Avon tyres and tubes; heater/demist system; seat belts; steel hydraulic brake lines; teflon coated accelerator cable, complete handbrake assembly, two speed self-parking wipers complete with high speed anti-lift blades, wiring loom assembly with battery cables and fuse box, all switches; front park/trafficator lights, tail/stoplights, number plate light.
| | |
| --- | --- |
| $4,297.00 | BOLWELL NAGARI, coupe |
| $4,372.00 | BOLWELL NAGARI, open sports, complete with hood and hood bows |
| $337.00 | Front suspension kit: Kelsey Hayes vented disc brakes, vertical links, ball joints, bearings, hubs, retainers, supplied and fitted |
| $335.00 | Rear axle kit: complete differential assembly (2.93:1), brakes, handbrake cables, brake lines, oil breather, supplied and fitted |
| $93.00 | Hydraulic brake kit: master cylinder, vacuum line and power booster supplied and fitted |
| $28.50 | Hydraulic clutch kit: clutch master cylinder, hydraulic clutch line, supplied and fitted |
| $70.50 | Fuel system kit: 12 gal. tank, filler neck and pipes, sender unit, locking chrome cap, fuel line and clips, supplied and fitted |
| $31.00 | Electrical accessories kit: dual horns, flasher unit, brake-light switch, supplied and fitted |
| $30.00 | Battery kit: 12 volt 52 amp battery, retaining brackets, supplied and fitted |
| $62.00 | Headlight kit: quartz halogen headlight units, supplied and fitted |
| $93.00 | Spare wheel kit: Bolwell alloy wheel, 185 x 14 Avon tyre and tube, mounting bracket, supplied and fitted |
BOLWELL NAGARI Stage 2 kit: includes all the items above
| | |
| --- | --- |
| $5,250.00 | Discount price Nagari coupe |
| $5,325.00 | BOLWELL NAGARI open sports |
| $69.00 | Tailshaft kit: shortened and balanced tailshaft (suit Ford 302 V8 motor) U-bolts, supply only |
| $177.00 | Radiator kit: special thick core x-flow radiator thermo-electric fan, all mounting, supply only |
| $1,245.00 | Motor and gearbox kit: Ford 302 V8 engine, 4-speed GT gear-box, complete clutch, slave cylinder, 6 blade fan, Bolwell gearshift mechanism, rubber boot and chrome trim, accelerator cable mount, speedo drive and cable, supply only |
| $235.00 | Exhaust kit: (suit Australian Ford 302 V8 motor) free-flow manifolds, engine pipes (dual), flanges, clamps and support straps, silencer and chrome tailpipes, supply only |
| $17.00 | Air cleaner kit: special paper element type air filter, supply only |
BOLWELL NAGARI, Stage 3 kit: include all the items above
| | |
| --- | --- |
| $6,800.00 | Discount price Nagari coupe |
| $6,875.00 | BOLWELL NAGARI open sports |
| $9.50 | Locking wheel nuts |
| $58.00 | Laminated windscreen |
BOLWELL NAGARI, Model FA: completely factory assembled and fitted with a laminated windscreen, covered under the factory 6/6 warranty
| | |
| --- | --- |
| $7,400.00 | Nagari coupe |
| $7,475.00 | BOLWELL NAGARI open sports |
Miscellaneous options
| | |
| --- | --- |
| $235.00 | Stereo radio/cassette unit with electric aerial, supplied and fitted |
| $138.00 | Stereo Cassette tape unit, supplied and fitted |
| $118.00 | Limited slip "Powerlok" differential |
| $68.00 | Sports tonneau |
| $65.00 | Sports roll bar |
| $27.20 | Approved 2lb. fire extinguisher (allows 2 1/2% discount on Insurance) |
| $85.00 | Exhaust kit: (suit imported Ford 302 V8 motor) engine pipes, flanges, clamps and support straps, silencer and chrome tail-pipe |
| | Freight charged from Melbourne available on request |