Mk.9 – Ikara (1979 – 1980)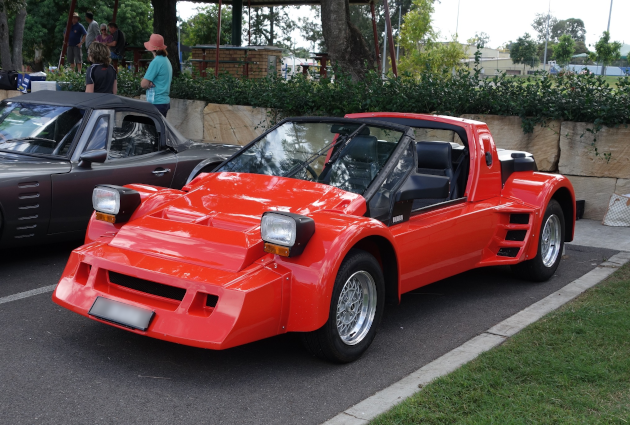 The Bolwell Ikara was conceived in 1978 when the Bolwell engineering and design team set out to create a sports car that was fun to drive without any of the compromises of the motor industry's safe, conventional and boring suburban "committee car".
The basic design concepts of the Ikara included:
Space frame tubular steel chassis based on sports race car principals and utilizing a built in roll bar for safety
The engine and transmission was a front-wheel drive Volkswagen Golf 1.6 litre transaxle unit mounted in a mid-engine position behind the driver with modified gearbox linkages. Using the Golf unit in this way also provided independent rear suspension complete with disc brakes.
Front suspension was from a Holden Gemini, which also provided independent front suspension with unequal length wishbones, disc brakes, and rack and pinion steering with an energy absorbing steering column system.
Wheels were specially designed light-weight 13 inch alloy units from Simmons. Specifications called for larger rims and tyres (225/60) at the rear than at the front (185/60).
Bodywork followed Campbell Bolwell's 'function before fashion' design principles with simple Clubman styling utilizing high-strength-to-weight fibreglass panels, whilst offering a 'pleasing and highly individualized appearance'.
The Ikara was to be sold as a kit or component car as this was the best way for Bolwell to be able to offer the Ikara at anything like an affordable price and without the requirement for Bolwell, as manufacturer, to go through all the ADR testing compliance and regulations that had effectively killed the Nagari.
Given the unfortunate demise of Bolwell following the Nagari, the Ikara also needed to be seen as a promotional vehicle by Bolwell to generate recognition of its expertise in fibreglass and composites. As a result, the Ikara combined a range of fibreglassing techniques, including chopper gun sprayed up parts, hand laminated parts and some very specialized injection moulding. Because of its marketing emphasis, the finish of the Ikara fibreglass panels and general workmanship was top class; a view confirmed by magazine and newspaper car reviewers almost without exception.
The Ikara was also conceived from the very start as a 'world' car with potential export opportunities. The chassis and fibreglass panels could certainly be exported or perhaps manufactured overseas under license; and although the Golf engine appeared to be the best choice for the Australian market and for many overseas markets, the engine/transmission/suspension unit from several other cars (eg Renault 5, Honda, Mazda 323, etc) could be readily substituted if necessary. Similarly there was a range of suitable alternatives to the Holden Gemini front suspension for overseas markets, and the steering could also be transferred to left-hand-drive quite simply.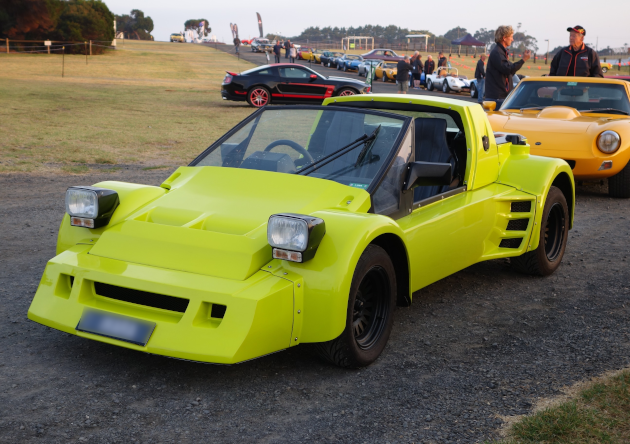 Bolwell produced a remarkably detailed 128 page Construction Manual for the Ikara as well as a detailed price list which very clearly set out exactly what was required for the owner/builder to complete their Ikara, and offered discounted pricing on four product packages. The basic Stage 1 kit started at $4,890 (just under the magic $5,000 price-point) where-as the comprehensive Stage 4 kit cost $9,490 (just under the $10,000 price-point). To this the purchaser had to add the cost of Golf and Gemini parts, which could be new or second-hand, and around 150 hours of labour. For the more skilled or cash strapped prospective Ikara owner, Bolwell even provided details of 'delete' options from the standard pricing which would potentially allow an Ikara to be fully completed, with engine and transmission but obviously with some compromises on parts and quality, for a minimum of around $7,5000. At the other end of the spectrum Bolwell indicated that there were authorised Ikara constructors available around Australia for those owners who needed assistance putting their Ikara together.
The Ikara project happened extremely fast, taking not much more than twelve months to get from design stage to having an Ikara actually on the road. This was mainly as a matter of necessity as the Ikara was conceived as a short run, low volume car, with a correspondingly low budget, so things had to be done as quickly and efficiently as possible.
Following a sneak preview to members of the Bolwell Car Club, the Bolwell Ikara was officially launched at a function at Melbourne's Calder Park Raceway in November 1979. This was a professionally organised event featuring the first two Ikaras and attracted world-wide media interest and coverage, including a report on the ABC's 7.00 pm news service. Official presentations were followed by a 'Cavalcade of History' featuring examples of all Bolwell models going back to the Mk4. After the media bit with journalists and TV crews, it was then left to the general public to go for a bit of a fun drive with John Latham, noted Bolwell Nagari racing driver, around the witches hats. For a reasonably small event, the Ikara launch certainly created considerable interest. The Ikara was available for sale from around January 1980 and by the end of 1980 Bolwell had built a total of 12 Ikaras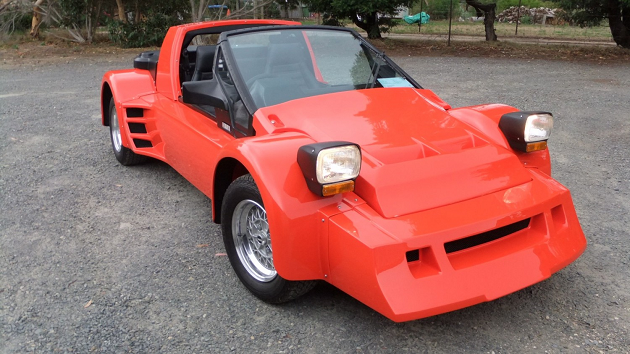 The Ikara project was wound down at the end of 1980. In February 1985 arrangements were finalised with a Greek consortium to purchase the rights and tooling for the Ikara and the jigs, moulds, patterns and other tools were all shipped off the Greece. Although the intention was that Ikaras would continue to be produced as both completed car and as kits, and that Bolwell would retain a consultancy role, nothing has ever been heard about the Greek Ikaras.
Bolwell Ikara Dimensions and Specifications
(Sourced from Bolwell promotional materials plus various contemporary road tests)
DIMENSIONS:
Wheelbase
2336 mm (92")
Track – Front
1365 mm (53¾")
Track – Rear
147 mm (57¾")
Overall Length
3683 mm (145")
Overall Width
1740 mm (68½")
Overall Height
1092 mm (43")
Ground Clearance
140 mm (5½")
Weight – Kerb
625 kg (1375 lb)
Fuel Tank
40 litres
SPECIFICATIONS:
Chassis
Multi-tubular spaceframe. Roll-bar incorporated.
Engine
(Typically) 1588 cc (96.91 cubic inch) displacement, 55 kW (74 bhp) @ 5600rpm,
119 Nm (88 lb/ft) @ 3200 rpm. Compression 8.2:1, SOHC
Transmission
Four speed all synchromesh, remote control mechanism
Ratios
First: 3.45
Second: 1.94
Third: 1.37
Fourth: 0.97
Final drive ratio: 3.90
Suspension
Front: Unequal length non-parallel wishbones, coil springs and telescopic shock absorbers.
Anti-sway bar. Adjustable for castor, camber and toe-in.
Rear: Independent, McPherson strut. Optional anti-sway bar, Adjustable for camber and toe-in.
Steering
Rack and pinion. Collapsible column. Turning circle 10.36 m. 3.7 turns lock to lock.
Brakes
Four wheel disks. No servo assistance. Hydraulic dual circuit, independent master cylinders front and rear with adjustable balance bar.
Wheels
Alloy/steel composite, super light-weight
Tyres
Front 185 x 60 x 13
Rear 225 x 60 x 13
PERFORMANCE:
(information based on Wheels/Sports Car World November 1980 road tests)
Maximum speed
163 kmh (5600 rpm)
Acceleration
0-50 kmh 3.9 seconds
0-100 kmh 11.3 seconds
0-130 kmh 22.1 seconds
Standing Start
0-400 m 17.4 seconds
Fuel Consumption
9.5 km/l (26.8 mpg)
7.5 litres/100 km (restated)