Nagari 300 (2010)

The idea for the Nagari 300 took place in Canada during a period that Bolwell were building wind turbine blades there. As Bolwell prepared to sell off the company and return to Australia with the plan to build wind turbine blades here from the technology it had developed in Canada (with some assistance from the Canadian government), Campbell was developing the concept for the next car design. The first design sketch was drawn on the back of a serviette whilst dining in the local 'Tim Hortons' donut and coffee restaurant.
Back in Australia in 2004 /5 the plan to produce wind turbine blades in Australia for the Australian market was killed off by a government decision to not proceed with a large project in Bald Hills, Victoria (for political reasons). This left a gap for the Bolwell group going forward. Campbell then decided to start the Nagari 300 project using some of the infusion technology developed in Canada. This vehicle was finally released in 2010 at the Australian Motor show.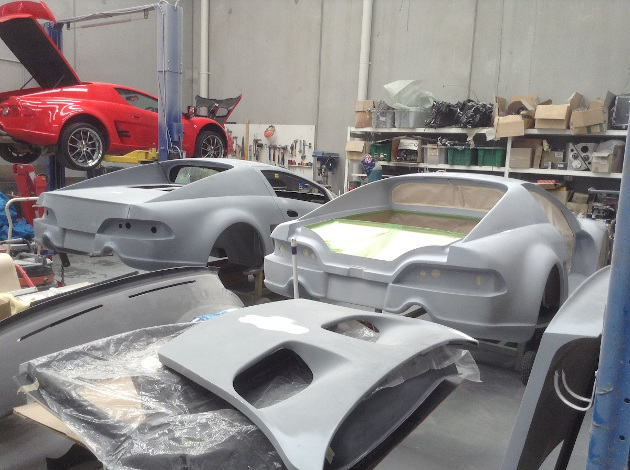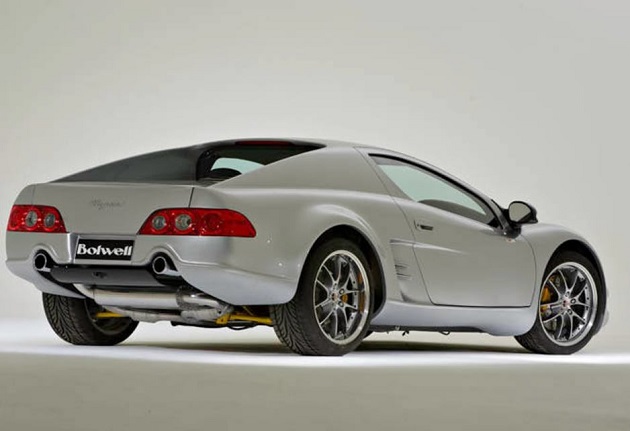 The technology behind the Nagari 300 (Mk.10) was based on light weight. Because of the Bolwell extensive experience in composites and using the new infusion technique it was able to design a lightweight structure with high strength and the 300 was going to demonstrate this technology. It was to be a V6 mid-engine with weight distribution biased to the rear. The basic structure was based on a torsional rigid occupant capsule which incorporated various materials such as carbon fibre and Kevlar as well as glass fibre. The infusion process kept the weight down without compromise to the strength. This capsule was designed to protect the occupant in the event of a serious crash. Tubular steel sub-frames strategically mounted to the capsule took care of the componentry, engine, suspension etc. The rest of the body was merely cosmetic so no extraordinary sophisticated materials were needed. Overall dry weight came in at just under 1,000 Kg. Most competitive vehicles of a similar type using a V6 engine were around 400 – 500 Kgs heavier.
Sales were modest but deposits were returned when it became apparent that Canberra would take almost 4 years to approve the 80+ ADRs. Compliance was finally achieved but sales had disappeared because of the delay. Only a handful have been built to date.
Nagari 300 Dimensions and Specifications
(Sourced from Bolwell promotional material)
DIMENSIONS:
Length
4100 mm
Width
1830 mm
Height
1190 mm
Ground clearance
135 mm
Wheelbase
2260 mm
Track – Front
1560 mm
Track – Rear
1542 mm
Weight
920 kg: 65% rear, 35% front
SPECIFICATIONS:
Construction
Unitary constructed carbon-fibre based occupant safety capsule with lightweight sub-frames front and rear supporting the engine, drive train and suspension components.
Engine
3.5 litre, all-alloy V6, quad cams, 24 valves, supercharged (optional). Engine and transmission mounted in the rear sub-frame.
6 – speed selectronic
Stainless steel exhaust and muffler system
Suspension
Full independent suspension with double wishbone configuration. Koni fully adjustable springs / shocks
Steering
Power assisted rack and pinion with adjustable column
Brakes
Front: 330 mm vented and slotted discs with large 4 pot lightweight calipers
Rear: 295 mm vented and slotted discs with 4 pot lightweight calipers
ABS braking system
Body
2 seat coupe, constructed in high-impact composites with extensive carbon-fibre reinforcement; fully aerodynamic shape with large opening doors, electric side windows, large flush-fitting windscreen with UV reflection incorporated; large boot capacity
Other
2 body-forming adjustable seats finished in wool or high-quality leather; full carpets with leather trim; practical glove box; air-conditioning, heating, demisting and fresh air ducting; cruise control; power steering; power assisted ABS brakes