Nagari 500 (2019 – Today)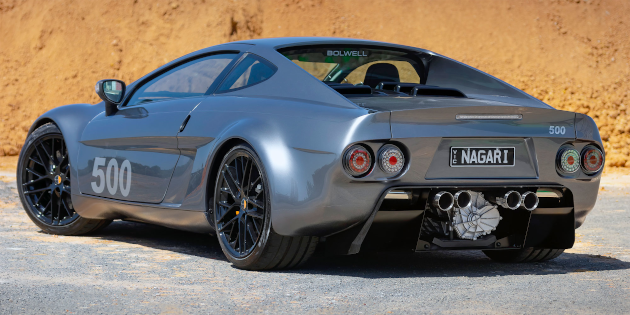 It was discovered that the Nagari 300 concept and design could fit a V8 engine in place of the V6 with very little modification. Wheelbase needed only an increase of 50mm and there was sufficient room for the Chevrolet LS3 motor even if the standard supercharger was mounted atop. When the design was fully researched it was found that the Chev V8 was almost exactly the same weight as the Toyota V6. Adaption to the Audi transmission was a little more difficult but was nevertheless achieved.

Further sophistication to the capsule design and the use of Corvette forged alloy suspension arms meant that weight could be controlled and the final vehicle weighed in at 985 Kg. Again, a remarkable result then compared to other supercars. With small modification to the exhaust system power was close to 500bhp (hence the description 'Nagari 500'). It was released at the MotorClassica in Melbourne in 2019 at the Melbourne Exhibition Building for the 50th anniversary of the Nagari. The original Nagari was released exactly 50 years previously at the same building.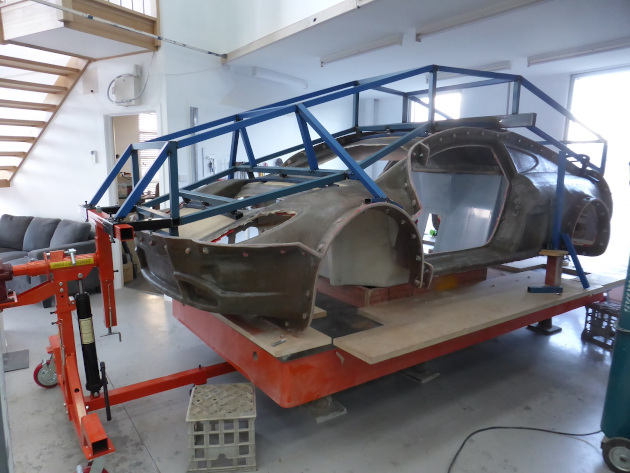 Unofficially the Nagari 500 will achieve a 0 to 100Kph in under 3 seconds. The Nagari 500 has some styling changes from the 300 but remains essentially a mid-engine vehicle with a classic shape and sophisticated interior. Current weight reduction development intends to reduce the unsprung weight by a further 40 Kgs. ADR compliance of this Nagari 300 variant will make it the supreme example of Australian research, design, and innovation. The development team consisted of Toby Hunt (Bolwell Technology P/L Chief Development Engineer), Graeme Bolwell, and Ross McConnell, noting that it was Graeme and Ross who worked together on the original Nagari 50 years previously after Graeme returned from working in the UK with Colin Chapman at Lotus. History was repeating itself.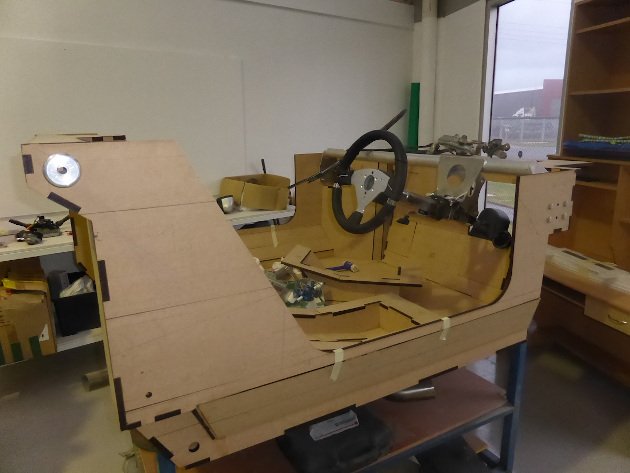 Nagari 500 Dimensions and Specifications
(Sourced from Bolwell promotional material)
DIMENSIONS:
Length
4135 mm
Width
1840 mm
Height
1190 mm
Wheelbase
2412 mm
Track – Front
1533 mm
Track – Rear
1512 mm
Ground Clearance
115 mm
Tare Mass
920 kg
Gross Vehicle Mass Rating
1320 kg
Weight-distribution
40% front; 60% rear
SPECIFICATIONS:
Construction
High-impact carbon-fibre occupant module, with light-alloy front and rear sub-frames
Front Suspension
Make: General Motors
Model: Corvette
Type: Independent, coil-over shock
Rear Suspension
Make: General Motors
Model: Corvette
Type: Independent, coil-over shock
Steering
Make: Toyota / Ford
Model: Camry / Escort
Type: Non-assisted
Brakes
Make: PBR / General Motors
Model: 4-disc – 4-wheel
ABS (Anti-lock Braking System) fitted
Front Disc: 355 mm vented slotted – 6-piston
Rear Disc: 355 mm vented slotted – 4-piston
Wheels (Standard)
Make: Factory Reproductions
Model: 19" C6 ZR1
Type: Alloy
Size – Front: 19 x 10 JJ
Rear: 19 x 12 JJ
Wheels (Optional)
Make: Houreh
Model: 19" Composite 3-piece
Type: Alloy
Size – Front: 19×10 JJ
Rear: 19×12 JJ
Tyres
Make: Yokohama
Model: ADVAN Sport
Ratings: Front: 98Y
Rear: 102Y
Size: Front: 265/35ZR19
Rear: 305/30ZR19 (Rolling Diameter: 667 mm)
Safety Systems
Driver & Passenger frontal air-bags
DSC (Dynamic Stability Control)
ABS (Anti-Lock Braking System)
Traction control
Fuel Tank Capacity
85 litres
Seats (Standard)
Recaro Sportster CS (as per Ferrari 430 & Ford Focus RS)
Seats (Optional)
Stradale 121 (as per Ferrari 360 Challenge)
Seat Belts
Hemco ELR – Lap/Sash
ENGINE
Standard
Make: Toyota
Model: 2GR-FE
Material: Light alloy
Configuration: V6
Capacity: 3.5 litres
Compression Ratio: 10.8:1
Fuel: Petrol (Unleaded – 93 RON)
Induction: Normally aspirated
Camshafts Arrangement: Dual OHC per bank
Valve Arrangement: OHV – Variable inlet & exhaust timing
Power: 220 kW @ 6,200 rpm
Torque: 335 Nm @ 4,700 rpm
Engine Management Computer (EMC): Same as certified GSV40 / GSV50
Fuel Economy: 9.9 l/100 km
Emissions Standard: Euro – Same as GSV40 / GSV50
Exhaust System: Stainless steel; 3 catalytic converters and muffler, same
as GSV40 / GSV50
Transmission
Make: Audi
Model: 0B1
Type: Manual
Number of Ratios: 6
Differential
Make: Audi
Model: 0B1
Type: Integral with transmission
Ratio: 3.091 : 1
ENGINE
Optional
Make: General Motors
Model: LS3
Material: Light alloy
Configuration: V8
Capacity: 6.2 litres
Compression Ratio: 10.7:1
Fuel: Petrol (Unleaded – 96+ RON)
Induction: Normally aspirated
Camshafts Arrangement: Hydraulic roller
Valve Arrangement: Pushrod with roller rocker
Power: 325 kW @ 6,000 rpm
Torque: 550 Nm @ 4,600 rpm
Engine Management Computer (EMC): As per certified Holden VE Clubsport
Fuel Economy: 12.9 l/100 km
Emissions Standard: Euro – Same as 2011+ Holden VE
Exhaust System: Stainless steel; 3 catalytic converters and muffler,
equivelent to 2011 Holden VE
Transmission
Make: Audi
Model: 0B1
Type: Manual
Number of Ratios: 6 1st: 4.26; 2nd: 2.31; 3rd: 1.49; 4th: 1.09; 5th: 0.85; 6th: 0.71
Differential
Make: Audi
Model: 0B1
Type: Integral with transmission
Ratio: 3.091 : 1
ENGINE
Optional
Make: General Motors
Model: L76/ L77/ L98
Material: Light alloy
Configuration: V8
Capacity: 6.0 litres
Compression Ratio: 10.4:1
Fuel: Petrol (Unleaded – 96+ RON)
Induction: Normally aspirated
Camshafts Arrangement: Hydraulic roller
Valve Arrangement: Pushrod with roller rocker
Power: 270 kW @ 6,000 rpm
Torque: 530 Nm @ 4,600 rpm
Engine Management Computer (EMC): As per certified Holden VE/ VF
Commodore
Fuel Economy: 12.9 l/100 km
Emissions Standard: Euro – Same as 2011+ Holden VE/ VF
Exhaust System: Stainless steel; 3 catalytic converters and muffler,
equivelent to 2011 Holden VE
Transmission
Make: GM
Model: F40
Type: Manual
Number of Ratios: 6 1st: 3.77; 2nd: 2.04; 3rd: 1.37; 4th: 1.05; 5th: 0.85; 6th: 0.71
Differential
Make: GM
Model: F40
Type: Integral with transmission
Ratio: 3.762 : 1
MOTOR
Optional
Type: Electric
Make: Tesla
Model: Sport (S or X) Base powertrain unit. Q or later revision
Material: N/A
Configuration: N/A
Capacity: N/A
Compression Ratio: N/A
Fuel: N/A
Induction: N/A
Camshafts Arrangement: N/A
Valve Arrangement: N/A
Power Options: 239 / 366 / 377 kW
Motor Management System: N/A
Fuel Economy: N/A
Emissions Standard: N/A
Exhaust System: N/A
Transmission
Make: N/A
Model: N/A
Type: N/A
Number of Ratios: 1
Differential
Make: Intergral with motor
Model: N/A
Type: Integral with motor
Ratio: 9.73 : 1